Alchemy GOTHIC beso de la noche Alas de Murciélago Vampiro Collar Colgante de Es
Estado:
Nuevo con etiquetas
9,46 EUR
+ 18,92 EUR de envío
Fecha prevista de entrega:
mié, 11 dic - vie, 3 ene
Aceptadas en un plazo de
30
días
El comprador paga los gastos de envío de la devolución
Garantía al cliente de eBay
Si no recibes el artículo que has pedido, te devolvemos el dinero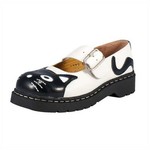 phoenixx_rising
Puntuación de votos

(57111)
Artículos relacionados que te pueden interesar Artículo a punto de finalizar
Descripción del artículo
"
Alchemy Gothic Kiss Of The Night pewter pendant on chain. Bat, creature of the night. All Alchemy Gothic pendants are cast and hand-made in fine English pewter. We answer all enquiries within 24 hours.
"
Ver todo
Más vendidos en Collares y colgantes