No quedan existencias del artículo que buscas pero hemos encontrado algo similar.
Kit Brazos Control 10PCS Jeep Wrangler TJ 1997-2006 ssrk/TJ/006A
205,30 EUR
+ 64,77 EUR de envío
Fecha prevista de entrega:
vie, 23 ago - lun, 09 sep
Artículos relacionados que te pueden interesar
Sobre este artículo
52087711, 5134991AA, 5134991AA52000213, 52038130, 52087710, 52087752, 52088312, 52001162, 52088654, 52087854, 52088520
Descripción del artículo
"
Jeep Wrangler TJ 1997-2006. ARMS KIT CONTAINS Vehicle Identification Number - VIN. The part might be different to the one on your car, and you may receive the wrong part. We will be very happy to talk and help you to get the compatible / correct parts.
"
Ver todo
Acerca de este vendedor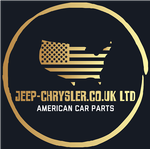 jeep-chrysler
Puntuación de votos

(13279)
Registrado como vendedor profesional