No quedan existencias del artículo que buscas pero hemos encontrado algo similar.
Unidad de respiradero gasolina PCV alivio de presión Válvula de control VW 06F12
21,75 EUR
+ 27,33 EUR de envío
Fecha prevista de entrega:
jue, 22 ago - vie, 13 sep
Realiza el pedido en para que te llegue a tiempo.6h 20m 30s
Artículos relacionados que te pueden interesar
Sobre este artículo
Artículo a punto de finalizar
Descripción del artículo
"
06F129101N or 06F129101Q. A5055422202674 EAP. replaces ORIGINAL VW AUDI SEAT SKODA PART numbers. You may also need to change the seal (not included) 06F103483E.
"
Ver todo
Compra con confianza
Garantía al cliente de eBay
Si no recibes el artículo que has pedido, te devolvemos el dinero
Acerca de este vendedor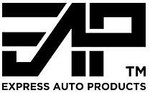 eapproducts
Puntuación de votos

(7018)
Registrado como vendedor profesional