Rueda De centrado en el concentrador de acero 2x 15mm Espaciadores 4x100/57.1 pa
56,10 EUR
+ 70,38 EUR de envío
Fecha prevista de entrega:
lun, 8 feb - mié, 10 feb
Aceptadas en un plazo de
30
días
El comprador paga los gastos de envío de la devolución
Incluye seguimiento internacional.
0,00 EUR (aproximadamente) en concepto de tarifas de importación confirmadas durante el Pago y envío.
Garantía al cliente de eBay
Al pagar con PayPal, tarjeta de crédito o débito.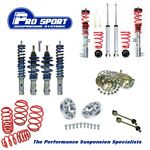 prosportperformance
Puntuación de votos

(356)
Artículos relacionados que te pueden interesar
"
VW Polo Mk3 (Type 6N/6N2) from 1994-01. 1 Pair (Axle Set) of 15mm hub centric bolt-through wheel spacers. PCD: 4x100. These Spacers are supplied with long bolts which will go through the wheel and the spacer into the original hub.
"
Ver todo

Descripción del artículo
Más vendidos en Silenciadores/Silenciosos
Todavía no hay valoraciones ni opiniones.

322,08 EUR nuevo

---- usado