Conmutador de encendido Opel Opel GM 914850 9148 51 90052497 90052498 ™ EAP
10,08 EUR
+ 33,17 EUR de envío
Fecha prevista de entrega:
jue, 20 ago - mar, 8 sep
Aceptadas en un plazo de
30
días
El comprador paga los gastos de envío de la devolución
Garantía al cliente de eBay
Al pagar con PayPal, tarjeta de crédito o débito.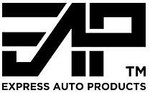 eapproducts
Puntuación de votos

(8895)
Descripción del artículo
"
0914851 90052497 90052498. 914850 914851 0914850. A5055422215940 EAP 2. replaces ORIGINAL VAUXHALL OPEL GM PART numbers. Always check the photo and part numbers match the product you are replacing.
"
Ver todo

Descripción del artículo