No quedan existencias del artículo que buscas pero hemos encontrado algo similar.
Filtro de aire con capa de espuma Jeep Wrangler TJ 2.5L & 4.0L 1997-2006 FAF/TJ/
19,63 EUR
+ 27,99 EUR de envío
Fecha prevista de entrega:
vie, 23 ago
Realiza el pedido en para que te llegue a tiempo.2h 1m 34s
Artículos relacionados que te pueden interesar
Sobre este artículo
4797777, 4797777AB, 4797777AC
Artículo a punto de finalizar
Descripción del artículo
"
Jeep Wrangler TJ 2.5L 1997-2002. Jeep Wrangler TJ 4.0L 1997-2006. If you are not sure that you're purchasing the compatible parts or would like to talk to us about anything. We will be very happy to talk and help you to get the compatible / correct parts.
"
Ver todo
Acerca de este vendedor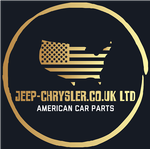 jeep-chrysler
Puntuación de votos

(13311)
Registrado como vendedor profesional