AUDI A4 A6 A8 Q7 VW Phaeton Touareg 3.0 TDI Turbocompresor
116,53 EUR
+ 35,63 EUR de envío
Fecha prevista de entrega:
lun, 25 nov - jue, 28 nov
Aceptadas en un plazo de
60
días
El comprador paga los gastos de envío de la devolución
Incluye seguimiento internacional.
0,00 EUR (aproximadamente) en concepto de tarifas de importación confirmadas durante el Pago y envío.
Garantía al cliente de eBay
Si no recibes el artículo que has pedido, te devolvemos el dinero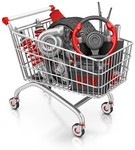 everything_in_between
Puntuación de votos

(3830)
Artículos relacionados que te pueden interesar
💥 Found cheaper... We will beat it 💥 60 days warranty 💥 Genuine parts 💥 Optional same day dispatch and next day delivery 💥
Artículo a punto de finalizar
Descripción del artículo
"
Fits following: Audi / VW with 3.0 TDI engines. We aim to provide very highest levels on all our services. Failure to do so could result in delayed dispatch . Compatibility is for guide only.
"
Ver todo
Más vendidos en ECUs/Centralitas