VW Polo Mk5 6R Hatchback 10/2009-3/2015 200mm diámetro Zapatos de Freno Trasero
16,02 EUR
+ 35,39 EUR de envío
Fecha prevista de entrega:
jue, 22 oct - lun, 26 oct
Aceptadas en un plazo de
60
días
El comprador paga los gastos de envío de la devolución
Incluye seguimiento internacional.
0,00 EUR (aproximadamente) en concepto de tarifas de importación confirmadas durante el Pago y envío.
Garantía al cliente de eBay
Al pagar con PayPal, tarjeta de crédito o débito.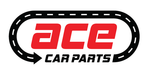 acecarparts
Puntuación de votos

(58461)
Artículos relacionados que te pueden interesar
"
Model: Polo Mk5 6R Hatchback. Year: 10/2009-3/2015. Brake Shoe Width (mm): 40. Product: Rear Brake Shoes Levers. Left hand drive cars have door mirrors fitted at a slightly different angle therefore creating the chances for blind spots if fitted incorrectly.
"
Ver todo

Descripción del artículo