This object may be subject to customs duties
Commissions, taxes and customs charges are not included in item price or shipping charges. These charges are paid by the buyer. Before you bid or purchase, please contact the customs in your country to know what are the additional costs
WARNING: THE BUYER HAS THE OBLIGATION TO READ CAREFULLY THE INSERTION AND CONDITIONS OF SALE
ARROGANT PEOPLE PLEASE STAY AWAY FROM ME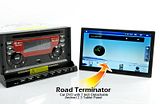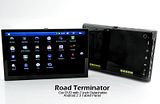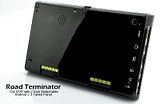 The coolest Car DVD player on the market so far: The Road Terminator is definitely a wow to you, your passengers, or your customers. It's a combination of an in dash Car DVD with a detachable 7 Inch Android 2.3 Tablet, robustly constructed and with a stylish appearance.
     
      It's Not a Car DVD…It's a Dream Come True
      A Car DVD is itself already an entertainment powerhouse on the wheels. Adding to a Car DVD a detachable Android Tablet (which at the same time serves as the touch panel), the Road Terminator is virtually the most powerful and versatile electronic in the world. It comes with a region free DVD player, receives DVB-T and Radio programs, allows you to make phone calls hands-free through Bluetooth connection, and plays music and movies directly from a TF card. And with its detachable Android 2.3 Tablet, you can surf the internet, play games, watch Youtube videos, and download thousands upon thousands of apps from the official Android Marketplace.
     
      Imagine this. You drive to meet a customer with the Car Terminator. It takes you to your destination with GPS, entertaining you on the way with movies, music, and TV programs, and once you securely park your car, you easily take off the tablet and go to your customer's office. You make an impressive presentation to your customer with the files you stored in the tablet PC, and before you know it, your customer agreeably sign the contract. What other car DVD can do all these for you?
     
      Less is More
      Instead of spending hundreds of dollars on a tablet PC, why not just buy the Road Terminator? You might have one less electronic, but you spend less money to live a more effective life. The Road Terminator is the ultimate electronic you can have. Everything you will ever need for play or work, whether on the road, in the office, or while comfortably stretching out on a sofa, everything, can be found on this baby.
     
      So why not click add to cart now. With its dazzling arrays of functions of features, it's guaranteed to impress and entertain you, your passengers, and it's definitely going to be a hit on your retail store. Order today and we will ship out within one day.
     
      At a Glance...
     
Detachable Android 2.3 Tablet Panel
     
2-DIN in Dash car DVD player
     
Powerful GPS chipset
     
Bluetooth-enabled
     
Region-free DVD player
     
7" LCD Touchscreen
     
Support WiFi
     
Compatible with top GPS software
     
iPod video and music compatible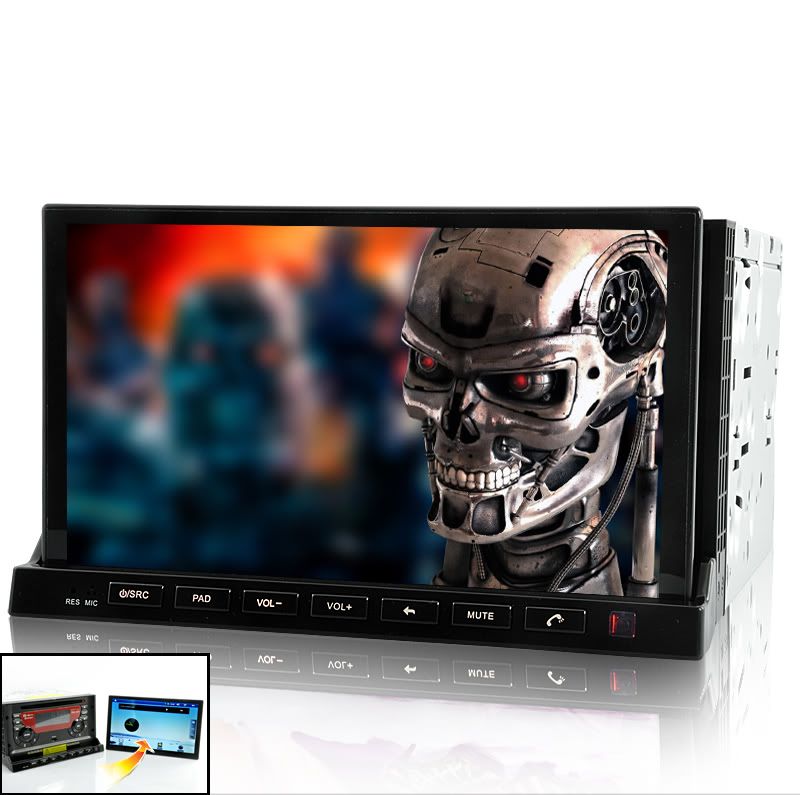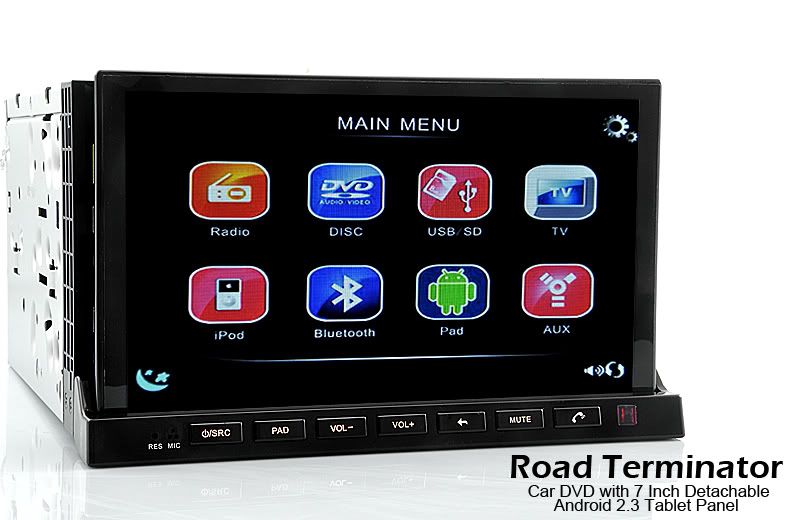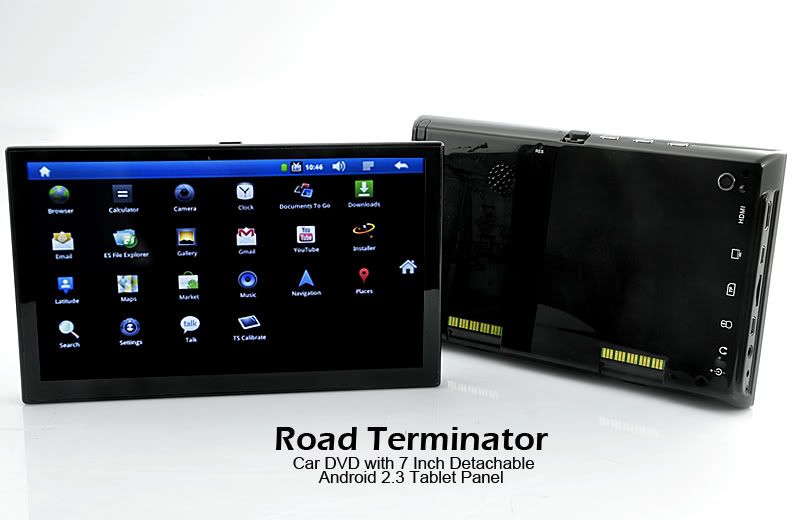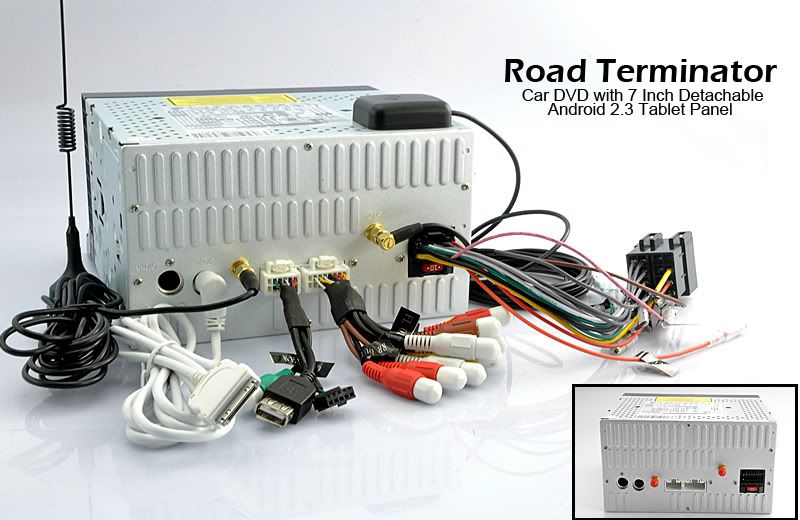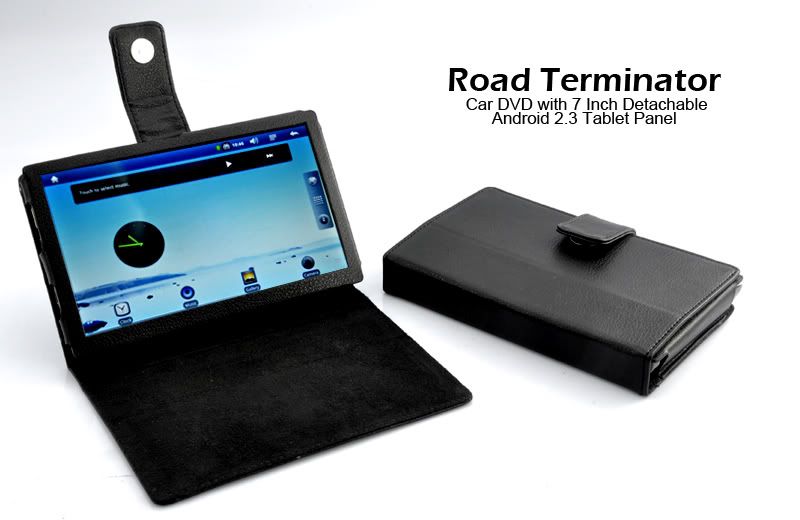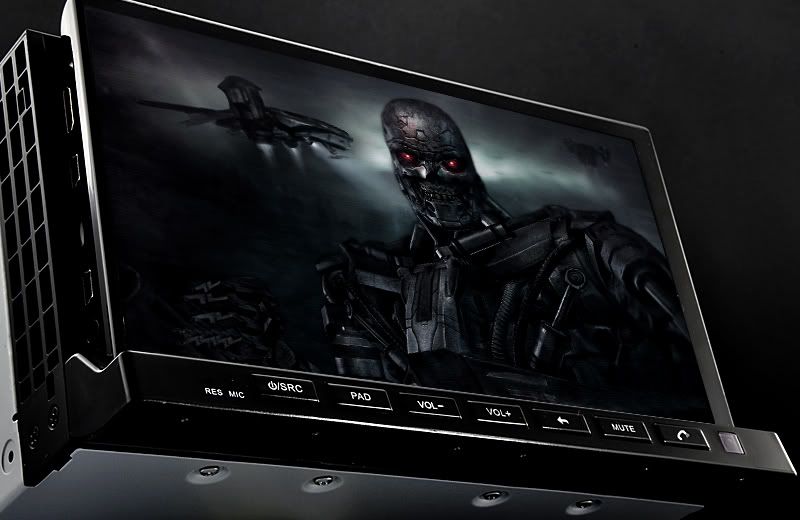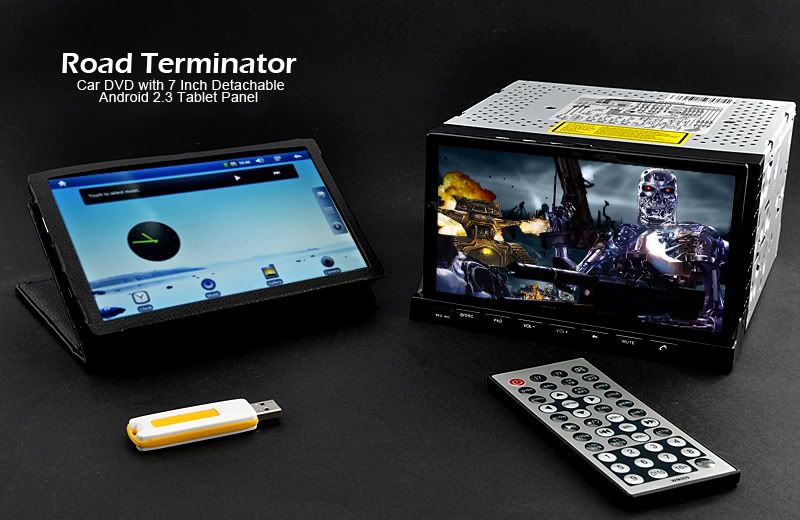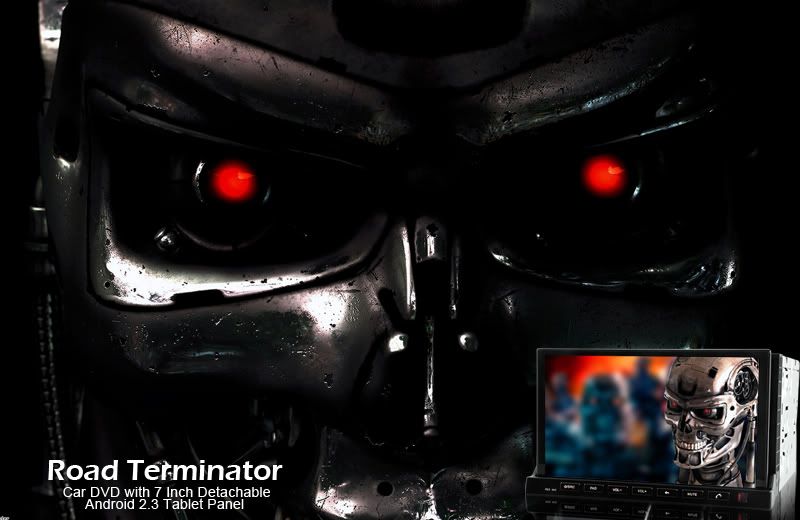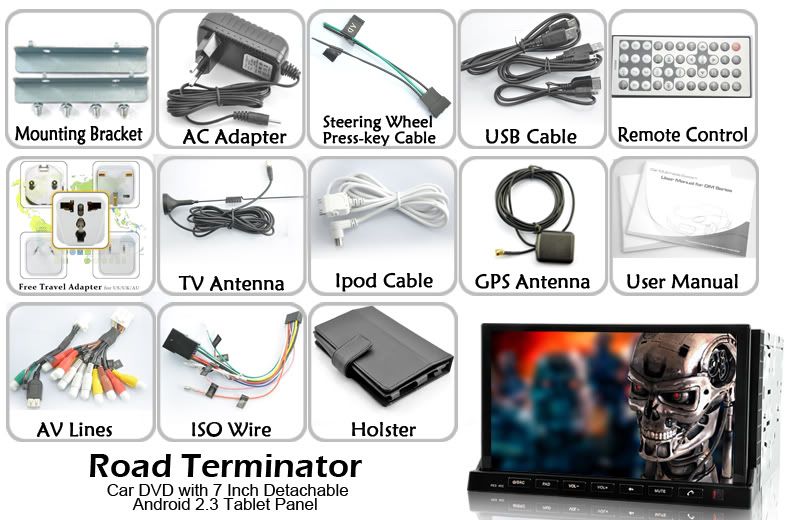 Manufacturer Specifications
     
      Car DVD
     
Main system information
        - Core CPU: Telechips TTC8803 1GHz
        - Internal memory: 512MB RAM, 4G Nand Flash
        - External memory: supports TF/USB drive up to 32GB
        - Operating system: Android 2.3
     
GPS information
        - Receiver module: JRC G591
        - Frequency: 1.575.42 GHZ
        - Signal channels: supports up to 210 PRN channels, with 66 search channels and 22 simultaneous tracking channels
        - Tracking sensitivity: -164dBm
        - Position sensitivity: 3.0m CEP
        - Speed rate: 0.1m/s
        - Recapture time: <1s
        - Hot startup time: <1.5s
        - Warm startup time: < 34s
        - Cold startup time: < 35s
        - Maximum position altitude: 18000M
        - Maximum speed rate: 515m/s
        - Built-in antenna type: Type 1 Active antenna signal input.1575.42MHZ, 50ohm
        - Built-in antenna voltage: 4.2V Max
        - Built-in antenna current: 30mA
        - Built-in antenna gain: 27dB
        - Interface: Touch screen
        - GUI interface: YES - 3D type
        - Maps: via SD card
        - Voice: YES
        - GPS menu languages: English, Chinese (Simplified), Chinese (Traditional), German, French, Italian (The actual voice and display language depend on GPS software which being used.)
     
Display information
        - Screen: 7 Inch TFT LCD
        - Resolution: 800 x 480 RGB
        - Picture in picture: YES
        - Detachable: YES
        - Choose your own background pic: YES
        - Video systems: PAL, NTSC, SECAM, AUTO
     
Disc information
        - Region free (also known as region zero or no region)
        - DVD-R, DVD RW, DVD+R, DVD+RW, CD-R/RW/DA, SVCD, VCD
     
DVB-T information
        - Digital TV receiving standard: MPEG-2
        - Automatic and manual search
        - Display: 16:9
     
Audio information
        - Max audio output: 50W x 4
        - Signal-to-noise ratio (SNR): >90dB
     
AM/FM radio tuner information
        - AM frequency range: 522~1710KHz (Worldwide)
        - FM tuning range: 87.5~108.0MHz (Worldwide)
        - RDS system: YES
     
Bluetooth
        - Pair with mobile phone - then use touchscreen interface
        - Dial, Answer, Stop Call
        - Volume Control
        - Touchscreen Keypad
     
Media player information
        - Video formats supported: AVI(H.264.DIVX.DIVX.XVID), RM, RMVB, MKV(H.264.DIVX.DIVX.XVID), WMV, MOV, MP4(H.264.MPEG.DIVX.XVID), DAT(VCD format), VOB(DVD format), PMP, MPEG, MPG, FLV(H.263.H.264), ASF, TS, TP, 3GP, MPG
        - Audio formats supported: MP3, WMA
        - Image formats supported: JPG
     
Connection information
        - IPOD input
        - MicroSD card input
        - GPS antenna input
        - DVB-T antenna input
        - Aux-L IN
        - Aux-R IN
        - Left front speaker x1
        - Right front speaker x1
        - Left rear speaker x1
        - Right rear speaker x1
        - Subwoofer
        - Video IN
        - Video OUT x2
     
      Android Tablet Panel
     
General
        - Operating System: Android 2.3 Gingerbread
        - CPU: Telechips TTC8803
        - CPU Speed: 1.0 GHz
        - RAM: 512 Mb
        - Keyboard: On screen keyboard
        - Screen: 7 Inch TFT Resistive Single-Touch Screen
        - Screen Resolution: 800 x 480
        - Camera: Back-facing camera
        - Camera Resolution: 2.0MP
        - Built-in Speaker and Mic
        - Battery Type: 3000mAh Rechargeable Battery
        - Battery / Run Time (up to): Around 6 hours working time
        - Power Device Type: AC adapter v- Voltage required: 100V - 240V
        - Color: Black
        - Languages: English, Spanish, French, Catalan, Czech, Danish, German, Hebrew, Indonesian, Italian, Latvian, Malaysian, Dutch, Norwegian, Polish, Portuguese, Romanian, Slovenian, Finnish, Swedish, Tagalog, Vietnamese, Turkish, Greek, Russian, Arabic, Thai, Korean, Chinese (Simplified), Chinese (Traditional), Japanese
     
Storage and Expansion
        - Hard Drive Type: FLASH
        - Hard Drive Capacity: 4GB
        - External Memory: Micro SD Card (up to 32GB) - Not included
     
Input/Output Connectors
        - Mini USB (Data Transfer)
        - Mini USB (Charging)
        - HDMI
        - 3.5mm Headphone
        - DC jack x1
        - Micro SD card reader
     
Communications
        - Wireless Connection: WiFi
        - Wireless Protocol: WiFi 802.11b/g
     
Certification: CE, FCC, RoHS
     
Dimensions:
        -170x103x15mm (Tablet)
        -190x180x100mm (DVD with Tablet Panel)
   
Product Notes
     
Even without the detachable Tablet Panel, the Road Terminator is still a stylish car audio video system. This is most useful when you have kids in the car when driving. The kids can play games with the tablet, while you can enjoy your favorite music or listen to radio with the DVD player.
     
The front panel while detached is a fully functional android tablet. You can take it home first of all to prevent theft, second to use it as a Tablet PC.
     
This product supports 3G internet through an external dongle (not included). Networks supported include WCDMA, EVDO and TD-SCDMA.
     
This product supports the DVB-T digital TV standard, which is not used worldwide. Please check to see if DVB-T will work in your region: [http://en.wikipedia.org/wiki/DVB- T]
     
This DVB-T product receives MPEG-2.
     
Want to know more about digital TV? Then check out our "Digital TV Explained" article at [www.chinavasion.com/digital-tv-explained.html]
     
Connect your iPod to listen to your entire music collection on your car stereo system
     
The USB port is a great way to hook up your portable media player with your car entertainment center
           

Special GPS Note: This model is compatible with most brands of GPS software - however hardware specific software such as Garmin may not run on this unit. As the wholesaler, I provide the GPS-enabled hardware only, not the software. I provide no warranty or customer support regarding GPS software. I cannot provide downloads / links / advice regarding GPS software. Any software installation you undertake should be performed or supervised by a professional.

   
Package Contents
     
Car DVD
     
Detachable Tablet Panel
     
Remote Control
     
Mounting Brackets
     
Power Cables
     
iPod Cable
     
Steering Wheel Control Cable
     
Manual
     
TV Antenna
     
AV Wire Harness
     
GPS Antenna
     
Mini USB to Female USB Cable
     
Mini USB to USB Cable
     
Leather Case
     
Power Adapter
   
WHO is ABSOLUTELY NOT AGREE WITH THE TERMS AND CONDITIONS DO NOT BUY
     
  NO CLAIM OR THREAT WILL 'BE TAKEN INTO ACCOUNT
 
  CONDITIONS OF SALE
 
  CONDITIONS OF SALE BELOW ARE BINDING HAVE LEGAL FORCE AND ARE ACCEPTED WITHOUT RESERVE AND ALL 'WHEN BUYING PLEASE NOTE: THIS SALE AND BETWEEN PRIVATE AND WILL NOT BE ACCEPTED THE WITHDRAWAL  This object HAS ONLY MANUFACTURE'S WARRANTY (12 months).
 
  The manufacturer's warranty from the date of delivery  
 
  The buyer is obliged to open the parcel in front of the courier and to insure its integrity, otherwise it will not be considered any visible defects resulting from the shipping process or any objects and / or missing accessories. In case of malfunction defect  the object will be sent to the sender (producer), not to the seller, shipping costs are charged to the customer. In any case, the goods must be made with the original packaging and contents complete and in perfect condition, otherwise any warranty will not apply and the return will not be accepted. If these conditions are met, the Customer Service will then proceed to charge back or the replacement of defective material. In case of re-credit will not be reimbursed for Ebay and Paypal. The seller will in no case be held responsible for any damage resulting directly or indirectly indiscreet use of the goods. The back guarantee only applies to defective products, and works as the manufacturer's warranty. All products are warranted according to the respective warranty. The manufacturer does not offer any guarantee for the accessories and the battery (even if incorporated and non-removable). Additional or replace the batteries can be purchased separately on request NOTE: THE SUBJECT IS SENT FROM CHINA AND MAY BE SUBJECT TO CUSTOMS DUTIES WITH YOU TO BE PAID TO COURIER AT THE TIME OF DELIVERY OR OTHERWISE IN ITS DISCRETION. Customs duties are a state tax and should not be confused with free shipping we offer and are not included in the sale price
 
  *********************************************
 
  BEFORE THE PAYMENT ALWAYS ASK IF THE PRODUCT IS AVAILABLE This article is listed as available at the time of his purchase, in rare cases it may be, in fact, exhausted. This situation arises from a large number of orders recorded in a short amount of time with our supplier. We will carefully promptly send a refund or another object gift to you. Aware of the discomfort occurred for this possible problem at all exceptional, we send you our apologies.We are, of course, at your disposal for any further request for information. We thank you for your understanding, we hope to quickly have the opportunity to honor his order and to satisfy your requests.
 
  The package will be sent by express courier and tracking code, 99% of cases, the package will be delivered within 5 days from receipt of payment, however, the seller can not be held responsible for delays attributable to the carrier for printing or the weather , strikes, or other attacks that can slow motion the expedition
 
  PAYMENTS
 
  I accept only payment by Paypal and bank transfer , needless to ask for more
 
  The item will be shipped within 3 working days of receipt of payment when paying by bank transfer may take 3-4 days
 
If the buyer has difficulty with the payment should contact me and I lay waiting
Aggiungimi al tuo elenco dei venditori preferiti!
Dai un'occhiata a tutte le altre mie inserzioni!
Visita il Negozio del venditore:
   
Informatica ed     Elettronica